Enjoy the finest Japanese sake and wines from all over the world in Ginza, Higashi-Ginza, and Shinbashi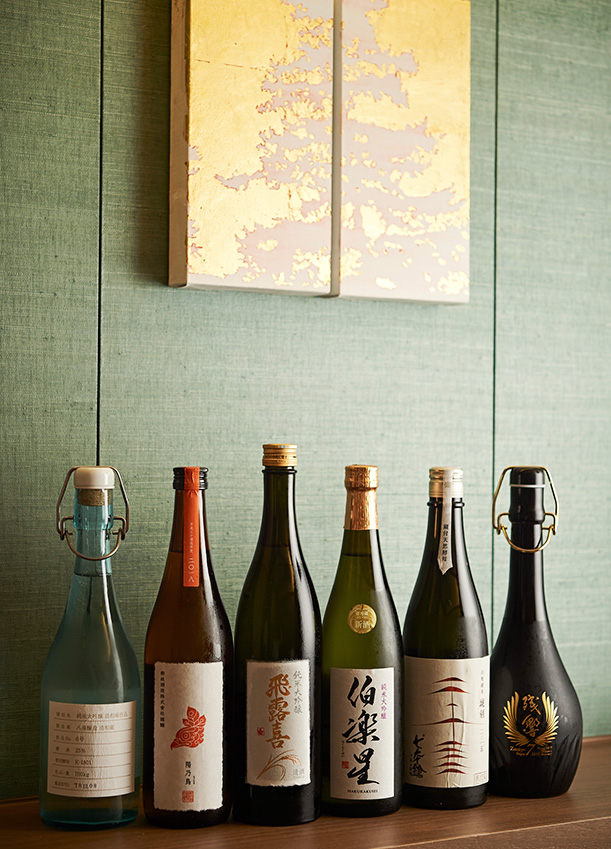 We are located on B1F of Ginza Green near Ginza Station and Shimbashi Station in Tokyo. Wasyou Ginmeisui GINZA serves a variety of fine dishes, including shabu-shabu made with premium Japanese Black Wagyu beef and seasonal vegetables, as well as teppanyaki and much more. We pair these fine dishes with sake carefully selected by our sake sommelier. We have a wide selection of 20-30 brands at any given time. Sake's flavor can vary depending on the temperature and type of glass, and this delicateness is just one of its charms. We can suggest the most suitable glass or style of serving, as well as food pairings, so please feel free to ask.

Because we want our guests to enjoy truly delicious sake, our restaurant has a rare sake cellar that is capable of having its temperature lowered to 5 degrees below zero, so that water freezes, but sake stays liquid. By maintaining the optimum conditions, we are able to present a fresh, delicious flavor, as if the sake was newly made, at any given time.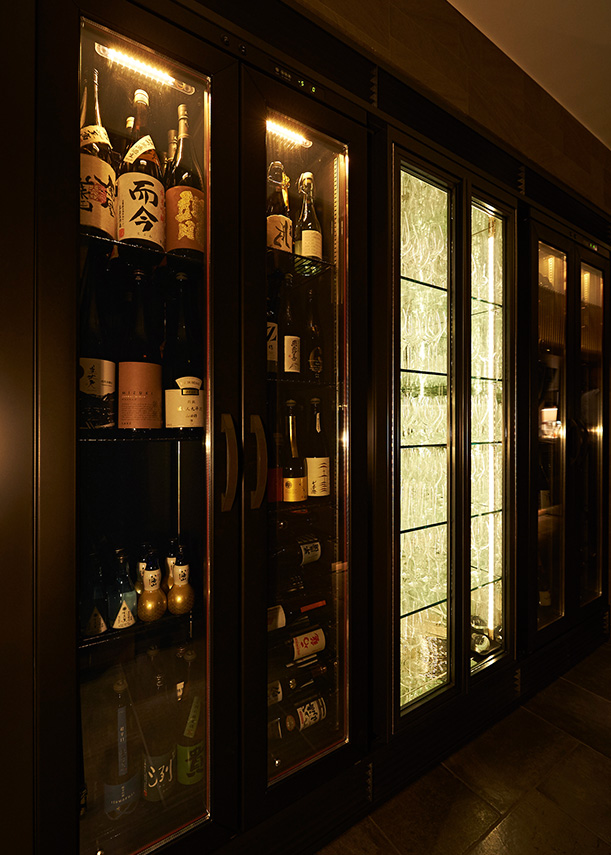 Japan's world famous Wagyu beef, plus sake.
Working with the cuisine to enhance each other, they achieve perfection in combination.Together, they create new flavors and aromas.
Please enjoy the delightful visual appeal of the cuisine as well.
* Our restaurant is licensed to serve raw meat.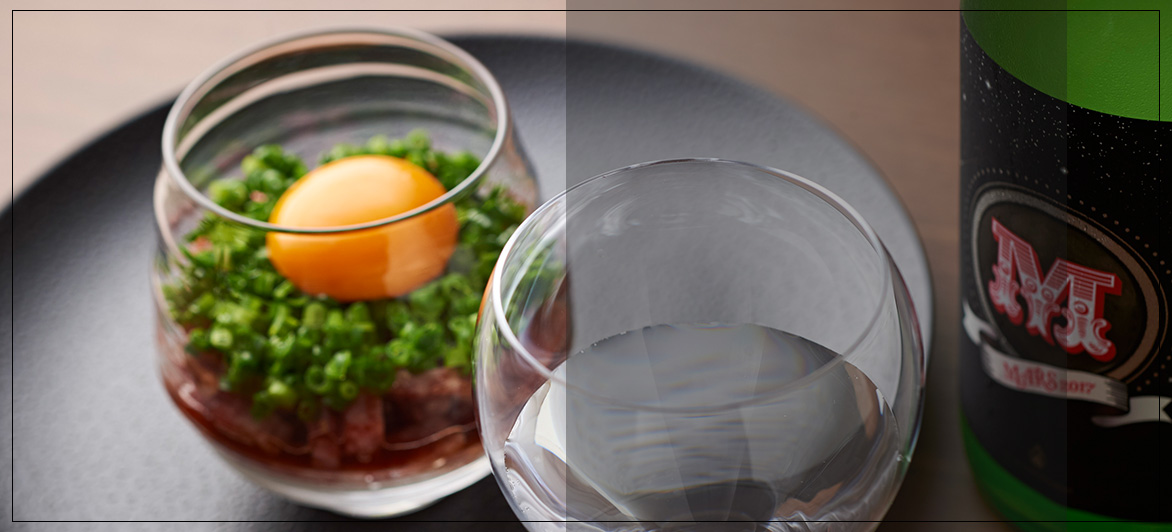 This yukhoe is made with beef shoulder roast and seasoned with Japanese-style dashi broth, filling your mouth with a rich, harmonious flavor.The perfect pairing with this yukhoe is Iwashimizu Mars, a junmai nama genshu sake with a bold, assertive flavor.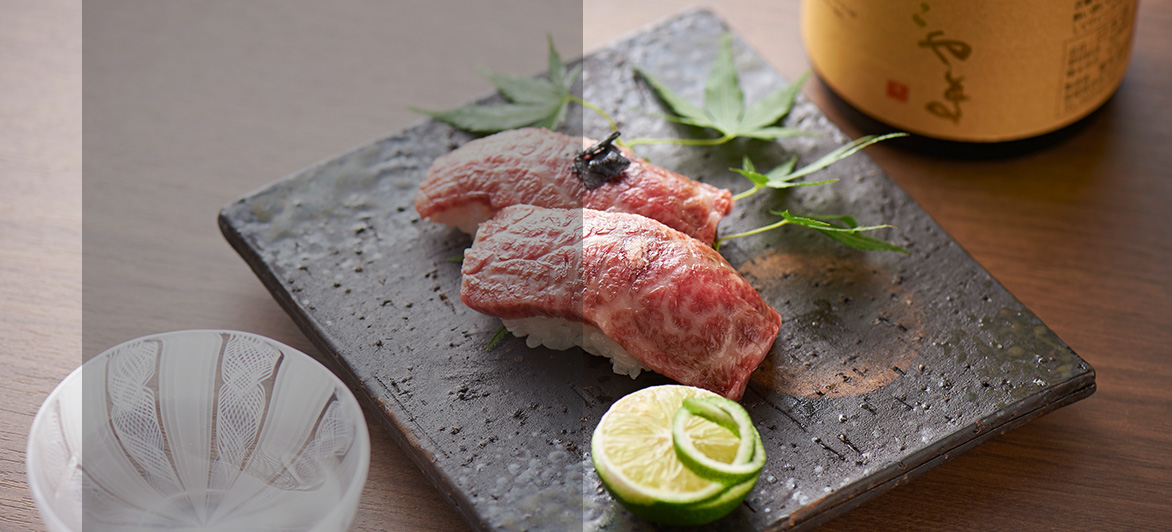 Yokoyama is a daiginjo sake characterized by the flowery citrus notes of sudachi and bamboo charcoal. It contains lactic acid, imparting a milder flavor that melds with the sushi rice. It also cleanses the palate of any lingering fatty aftertaste.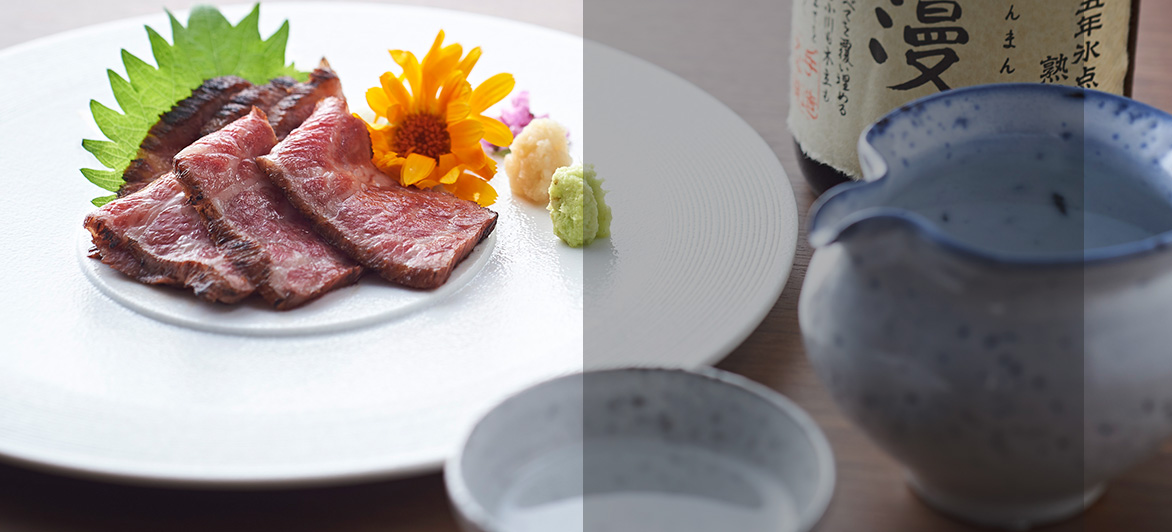 This junmai sake is brewed to a mellow, well-rounded flavor. We recommended drinking it warm when it is most aromatic. The complex ginjo aroma and smooth mouthfeel are a perfect complement to the simple, yet flavorful minced beef.

* This menu is an example. Availability varies depending on the season.
Mizubasho Junmai Ginjo Sparkling
Kidoizumi Twelve Sparkling
Hayaseura Daiginjo
Dewazakura Yukimanman
Hirotogawa Tokubetsu-Junmaishu
Hakuryu Junmaishu
Sohomare Junmai Daiginjo
Kikuhime Tsurunosato Yamahai Junmai
Shichihonyari Kokoku Yamahai Junmai
Iwashimizu Mars Funashibori Seme
Masuizumi R Namamoto
Hoobiden Junmai Ginjo Wine Cell
Hoobiden Daiginjo Betsuatsurae-Shiko
Sawaya Matsumoto Shuhari ID566
Hiroki Junmai Daiginjo
Hiroki Junmai Daiginjo
Zankyo Junmai Daiginjo Chotokusen
Hakkaisan Tokubetsu Honjozo
Hakkaisan Hyotanbin Junmai Ginjo

Kamoshibito Kuheiji Junmai Daiginjo Betsuatsurae
Jikon Junmai Ginjo Omachi Murokanama
Kokuryu Ryu Daiginjo
Kokuryu Shizuku
Yokoyama Junmai Daiginjo
Hakkaisan Junmai Daiginjo Kowagura Shikomi 25%

Enjoy the ingredients of teppanyaki dishes paired with a superb wine.At any given time, our wine cellar has more than 30 brands of champagne, red wine, white wine, and more. A selection by our sommelier from our assortment of world wines is guaranteed to enhance the deliciousness of your meal.Savor the thrill of a perfect combination.

Beer
Glass Beer Sapporo Ebisu Meister
Bottled Beer Asahi Super Dry Small Bottle
Nonalcoholic Beer
Fruit Liquor
Domestic lemon sour
Baiko Hyakunen Umeshu Ibaraki
Aragoshi Mikanshu Nara
Shochu
Sato Barley
Mao Sweet Potato
Whisky
Dewar's Highball
Hibiki
Maker's Mark
Macallan

Lineup
Okuaizu-Kaneyama Natural Sparkling Water 
Okuaizu-Kaneyama Natural Spring Water
White Peach Juice
Oolong Tea
Zero-calorie Cola
Ginger Ale